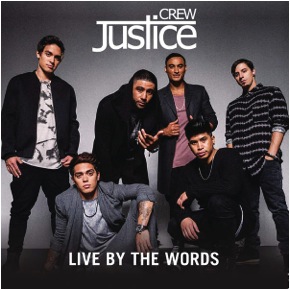 Justice Crew's debut album was announced on November 4th 2014, and was available to pre-order on the very same day. The album was released globally on November 28th, 2014.
Background
Edit
Recorded between 2012 and 2014, the album features both previously released singles and newly recorded material and includes contributions from Mike Posner, Nasri, Robopop, Danny Mercer and DNA Songs among others.
Track Listing
Edit
1. Intro
2. Que Sera
3. Fly
4. Rise & Fall
5. Interlude
6. Boom Boom
7. I Love My Life
8. Best Night
9. Always Been Real
10. Everybody
11. Life's A Party
12. Ride Until The Sun
Boom Boom
-Released: 29th June, 2012
Best Night
-Released: 11th January, 2013
Everybody
-Released: 11th October, 2013
Que Sera
-Released: 2nd May, 2014
Rise & Fall
-Released: 24th October, 2014
I Love My Life
-Released: 3rd April, 2015
Band's Opinions
Edit
John: "We are so excited to release our first full-length studio album! It feels great to have a body work such as Live by the Words which really showcases us as artists, and we are really pumped for all of our fans to hear it."